Systane | Malaysia
This page is available in English. Select below for other countries.
COMING SOON
Americas
     Brazil
     Mexico
     Colombia
     Chile
     Argentina
     Ecuador
     Peru
     Uruguay
 
Europe / Middle East / Africa
     Italy
     France
Asia Pacific
     South Korea
     China
     Hong Kong
     Singapore
Don't let your eyes hold you back
ALL-IN-ONE DROP
for all types of dry eyes2,3
All-in-One Drop
Optimal relief targeting all layers of the tear film.2,3
Nano-Droplet Technology
Optimal coverage for maximum dry eye relief.2,3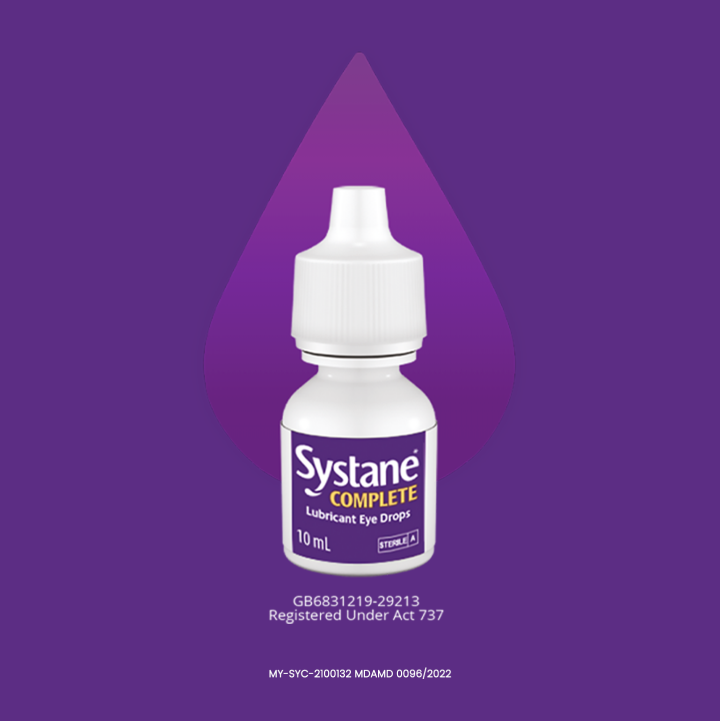 WHAT IS DRY EYE?4,5
Dry eye is a multifactorial disease of the tears and ocular surface that results in symptoms of discomfort, visual disturbance, and tear film instability with potential damage to the ocular surface.
It is accompanied by increased osmolarity of the tear film and inflammation of the ocular surface. Dry eye is often a chronic (ongoing) condition.
The condition can be caused by many factors, such as aging, hormonal changes, surgery, certain medications and more.
Dry eye can make it difficult to perform some activities, such as using a computer or reading for long periods of time.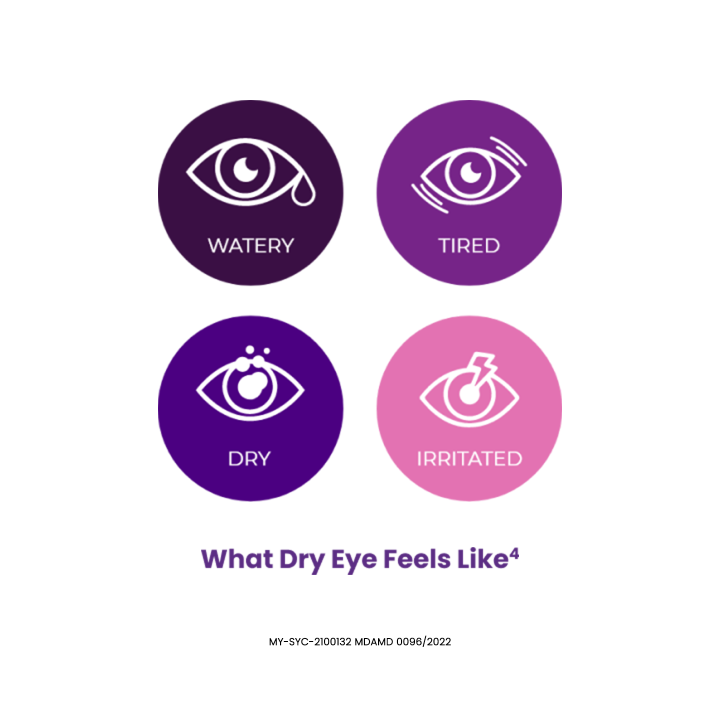 ALL-IN-ONE RELIEF for all types of irritated, dry eyes
MY-SYC-2100132 MDAMD 0096/2022
FIND OUT IF YOU HAVE
DRY EYES
Spare a couple of minutes to test out eye health & get your Systane Complete Dry Eye Kit now! (while stock lasts)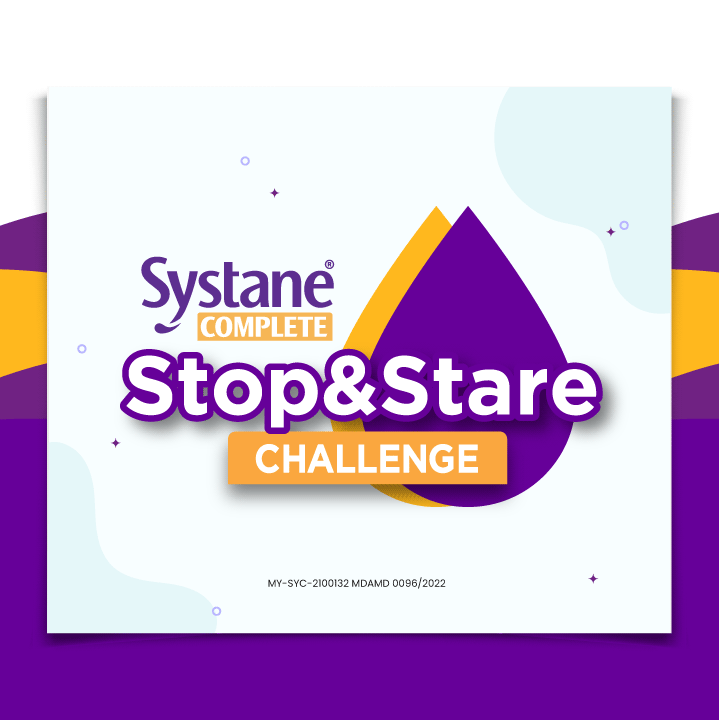 AMAZING OFFER
JUST FOR YOU!
Get RM8* off with every unit of Systane® Complete purchased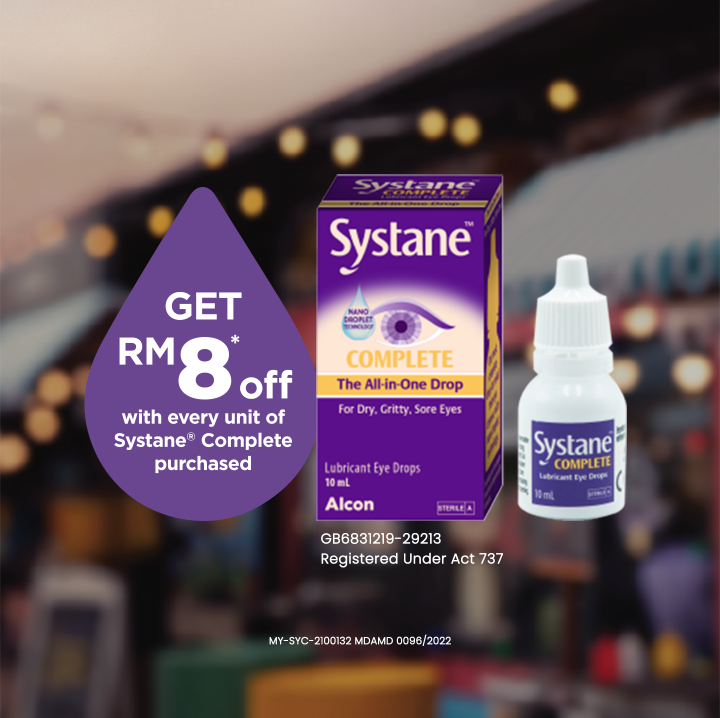 References:
1. Silverstein S. et al. Symptom Relief Following a Single Dose of Propylene Glycol-Hydroxypropyl Guar Nanoemulsion in Patients with Dry Eye Disease: A Phase IV, Multicenter Trial. Clinical Ophthalmology 2020:14 3167–3177 ©2020 Alcon Inc. 11/20
2. Alcon DOF Nanoemulsion for MGD [DMGD001]. 2013.
3. Rangarajan R, Ketelson H; Preclinical Evaluation of a New Hydroxypropyl-Guar Phospholipid Nanoemulsion-Based Artificial Tear Formulation in Models of Corneal Epithelium. J Ocul Pharmacol Th. 2019; 35(1): 32-37. Sponsored by Novartis
4. Lemp MA, Baudouin C, Baum J, et al. The definition and classification of dry eye disease: Report of the Definition and Classification Subcommittee of the International Dry Eye WorkShop (2007). Ocul Surf. 2007;5:75-92.
5. Springs CL. Novel hydroxypropyl-guar gellable lubricant eye drops for treatment of dry eye. Adv Ther. 2010; 27: 681-690
Consult your healthcare or eye care professional for use, precautions, warnings and contraindications.
©2022 Alcon Inc. 15/1 MY-SYC-2100132 , MY-SYC-2200003 MDAMD 0096/2022 and MY-SYC-2200012 , MDAMD 0191/2022